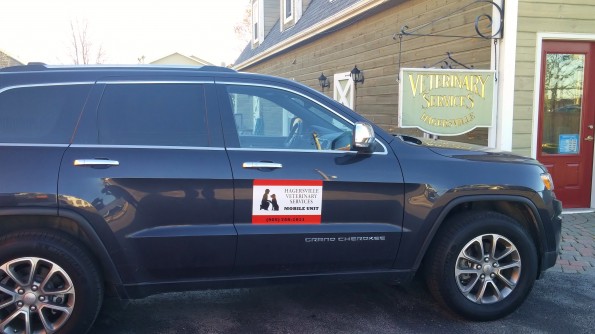 DUE TO COVID-19 HOUSE CALL SERVICES ARE TEMPORARILY UNAVAILABLE.
As of November 2015, Hagersville Veterinary Services was licensed by the College of Veterinarians of Ontario to perform house calls for our clients and their pets. If you pet is scared or nervous of coming to the clinic, we can now come to your house to preform veterinary care.
Our mobile unit services the Haldimand, Norfolk and Hamilton regions.
Our Mobile Services Include:
Wellness examinations
Vaccinations
Compassionate in home euthanasia and aftercare
Collection of samples for laboratory testing
Heartworm testing
Microchipping
Minor surgery
Transport to Hagersville Veterinary Services if further diagnostics, hospitalization or surgery is required
This service is ideal for:
Seniors
Households with multiple pets
Pets that dislike car rides or vet clinics
Older pets that have difficulty with mobility
Clients with busy schedules
Clients with young children or those that work from home
Those clients that want to provide the best veterinary care and professional service for their pets in the comfort of their own home